WATERFALL LEAK & REPAIR & SERVICES
​Having Waterfall Issues? We Can Help!
WATERFALL & STREAM REPAIRS & REMOVATIONS CONTRACTORS
Our Outdoor Network Services Members Offer Repairs/Renovations On Existing Waterfalls
Having A Leaky Waterfall Can Be A Time Consuming
Mind Boggling Expensive Process
Having a leak in the waterfall area of your water feature is one of the most common leak spots for any type water feature. Newly built waterfalls will settle over time, thus in some cases lowering liner edges allowing water to exit your pond at the waterfall.
Depending on how your waterfalls are built, will depend on the cost to try and fix, or to disassemble and -re-build them. You can expect to see labor rates from our contractors ranging from $60 -$90 per man hour for laborers, and up to $125 hr for waterfall designers or artists. A common price point to add a new water filter and rebuild your waterfall will run between #2,500 and $3,500 for average size waterfalls on pond ranging in size fro 8×10′ to 11×16′.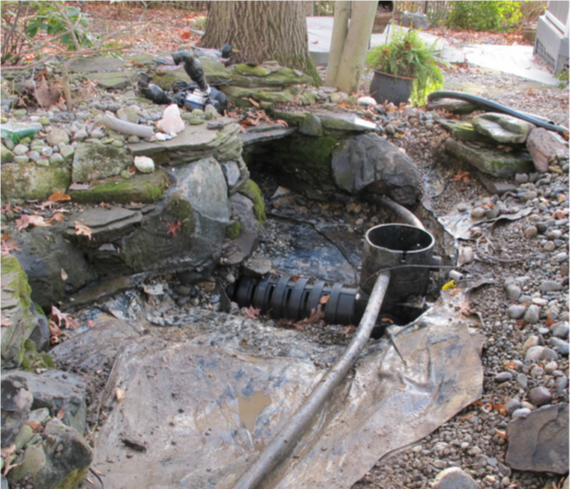 Use The Process Of Elimination
Hunting down leaky waterfalls can be a long process of elimination to determine where the water is going.
If your waterfall has streams incorporated in them, bypassing your pump and using an additional pipe to section off parts of the stream and letting them run is common. this process will often take multiple days of back and forth to check water levels during the process. You can expect to see labor costs of $500-$1,000 for streams that are 10′ or so in length, and up to 3-4 days of back and forth letting them run trying to narrow down the leaky area. This doesn't guarantee that the leaky area is found either, it may be that larger boulders or machine placed rocks are in the way, then it's possible that you need your waterfalls rebuilt, which is an additional cost on top of the process of elimination cost.
Are You A Gambler?
​It really is a gamble to try and find waterfall leaks in a timely manner to keep labor costs down.
Speaking from experience told by our members, in some cases it would have been less expensive for pond owners to rebuild the waterfalls from the start, rather than spend the time and money needed to hunt for the leaky area.
If you are having issues with a leak, do the basic's of leak detection before you call a professional in for help, this will save you money right from the start.
Here is a checklist of things to do before calling a pro in to help:
Turn off your pump for 12-24 hrs to see if the water is still being lost in your water feature, record amount lost if any..
Closely inspect all edges of your pond or water feature to look for any wet areas in the dirt or mulch
Monitor chipmunks or other burrowing ground animals to see where they go between rocks or tunnels next to your pond
DO NOT JUST KEEP ADDING WATER… you can cause more damage & costs to fix by just letting it leak
Additional Pond Repair Information
Outdoor Network Services Pond & Water Garden Products & Resources
Use all of our pond & water gardens related sites below to locate companies in your local area to find the products and maintenance services you are looking for to keep your pond or water feature looking it's best all season long.


Or Click On Your State To See All Available Services